Stephanie Blanc
Stressed About How You'll Pay For Your Wedding? Consider These 5 Financially Savvy Tips!
Are you currently at the beginning stages of wedding planning where you're mostly researching and gathering up quotes only to be a bit taken aback by the average cost of weddings in general?!? Thus dreading the cost of your OWN wedding?? We all know that weddings can add up to a pretty penny (Well at least now you do). And, I'm sorry to say, but those articles where the bride claims that she did her entire wedding for $2,500.00 or less are extremely misleading.
Can you have a $2,500 or $2,000 or $1,500 wedding? Well sure, you probably can, but please be aware that a wedding THAT low-priced doesn't come without the omittance of the majority of your standard vendors, along with largely lowering your expectations for the vendors that you DO end up hiring. Add in your garments, accessories, bouquet, & cake, and it will be damn near impossible to keep things within that type of budget. Especially, with the price of everything going up! Additionally, it'll also probably consist of a standard courthouse ceremony (which is completely fine by the way!!!), an officiant, and dinner for you and your significant other with a few guests. You'll be extremely lucky if you can squeeze in the costs of a skilled photographer/videographer. But if you're based in NY like myself, then you would've already run out of funds from that $2,500 budget, for the latter.
But hey, listen I get it...Not everyone necessarily has $50k or even half of that laying around just to plan a wedding either. And even if you're aiming for a $10k-$15k or $25k budget, sometimes it just doesn't seem attainable with all of life's current responsibilities. Hence why I thoroughly understand the stress and anxiety that couple's face with wedding costs. So what are some savvy ways to pay for your wedding that won't ya know, look extremely tacky?? Well I'm gonna share my ideas with you so that you too can have that beautiful wedding that you've always dreamed of!
Now for full transparency, I'll admit that I, wholeheartedly, contemplated whether or not I should even publish this blog post. Why? Well because my goal is never to encourage quick schemes to get to the finish line or incur huge amounts of debt. I do wholly stand by the old school mentality of hard work, which will still be substantially prevalent in my tips. So I still definitely encourage putting in the work. It's just that I often see many brides-to-be in tears when they come to the realization that they won't get the wedding of their dreams, solely due to financial reasons. Therefore, I wanted to share some realistic tips that many may not have even thought of. So without further ado...Here we go!! Check out my 5 savvy tips to pay for your wedding!
1.) Joint Account Acceleration Program
Yes, I totally made that name up haha!! And hopefully, you haven't already given up on my list just yet because of this first tip haha!! But this is such an obvious tip that is often overlooked, and I'd like to highlight it. Listen, nothing in this life that is considered worthwhile, ever comes easy. And, before anyone jumps to conclusions....No, I'm not instructing you to combine accounts with your significant other. Hopefully, you two would've already discussed how you'll manage your finances in your marriage prior to walking down the aisle. But THIS tip could potentially be a fun exercise where the two of you create the opportunity to build financial trust with each other. This tip is to setup a joint bank account where the both of you deposit a weekly amount for an agreed amount of time. I'd suggest at least a year depending on what your weekly amount is, but it can be whatever you decide. You can start small, like each of you puts in $50 (or even $25 if you think $50 is too much, cause lets be real...You won't really notice the effects of a missing $25 bucks in your pocket) a week and gradually increase the amount. You can also try cutting back on your other weekly expenses like that Starbucks coffee and Chinese takeout to beef up (no pun intended haha!!) your weekly deposit. Or here's a 2-in-1 tip(!!!)...Take up a part time gig like UberEATS, Grub Hub, Door Dash, Lyft, babysitting, dog-walking, or even Task Rabbit and each of you deposits $150 per week for a full year. That adds up to $14,400! And I always say that if you got at least $10k-$12k and a small guest list, then a stunning, intimate, wedding is definitely attainable. Oh and by the way(!!!), in case you're interested in an intimate wedding I can totally assist you with my Le Petit Mariage Wedding Packages! It'll give you all the bells and whistles of an exquisite wedding for a prix fixed rate! If you're on the fence with the idea of a more intimate-sized wedding, then you should check out my blog titled, 7 Reasons We Love The Mini-Matrimony Trend, that highlights the benefits.
2.) 401k Assets
Ok, so we're going to briefly segue into a little bit of a finance class here. Math was never my strong point, but if there was anything I was good at, it was adding up the coins Haha!! If you're fortunate enough to have a job that offers 401k benefits and you've actually been taking advantage of said benefits...Well then, kudos to you for making smart financial decisions! Bonus points, if you have an decent employer/employee match program. Meaning, if you pay $40.00 a week or $160.00 a month and your employer fully matches it up to $80 a week or $320.00 a month or at the very least something close to that figure, then honey you're in the money! It's literally free money, so definitely take advantage of that!
So now moving along to my tip...You may or may not know that you can actually take out a loan from your 401k assets. Please keep in mind, that there are certain conditions that apply when withdrawing funds depending on your provider. For example, the maximum amount you're able to withdraw will usually be contingent on the total amount of your 401k funds. So therefore, say you have $25k in assets...Then your provider might only allow you to withdraw up to $9,600 or whatever their threshold is. Additionally, there will be interest applied when you're paying it back. It's just that the interest rate is usually wayyy lower than your typical credit card or standard personal loan from another lender, such as your bank. But again, full disclosure, all these variables depend on the actual 401k provider and their specific policies on withdrawals. So these are just examples. Some companies may have an entirely different set of policies. Therefore make sure you do thorough research with your 401k provider and talk to a representative from the company in order to get a better understanding before taking any action. I'd also advise you to really think deeply about how much you'd like to spend on your wedding versus how much you cannnn spend. In order words, just because you can withdraw $25k from your 401k doesn't mean you should actually do it. Or, if you do end up withdrawing $25k, try not to actually spend the entire $25k amount. You'd be surprised what you can actually achieve wedding-wise when you ultimately make wise decisions based on your guest count, venue, & vendors.
Oh(!!!) and make sure you and your future spouse discuss a plan to pay the loan back together, if its only one of you withdrawing from your 401k. After all, the wedding is in honor of you both! And, although, it's generally recommended for everyone to leave their 401k assets alone, there are certain instances where one may feel more comfortable or sense a dire need to take that route. For example, they may not have the best credit to be approved for a personal loan from an outside lender, or they may prefer the lower interest rate in comparison to what another lender is offering, or they may feel more comfortable with the idea of essentially owing money to "themselves" versus an entirely different 2nd party that they don't even have a rapport with. Just keep in mind that you should always have a main objective and general outline when deciding to take out a loan. And, finally, I cannot stress enough...Whatever you decide to do, just make sure to do your research!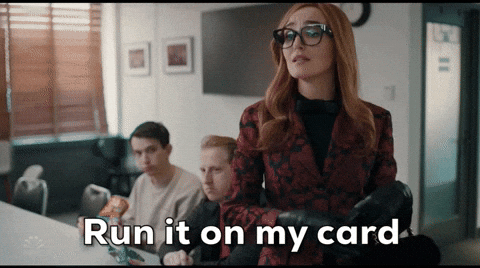 3.) Personal Loan
Now, if you do not have a 401k, but you're leaning towards the idea of taking out a loan then perhaps taking out a personal loan may be the option for you. Let me reiterate again how important it is to do thorough research prior to taking any action. There are websites all over the internet full of search engines with the sole purpose of obtaining your personal information and providing you with a list of lenders and their comparable/competitive interest rates, along with their corresponding credit score requirements. Please keep in mind, that you may not be approved for a personal loan if your credit score does not meet that specific lender's criteria. Realistically speaking, a lot of times, lenders require a minimum credit score of at least 690-700+ to approve you. That isn't to say that if your score is less than 690 that you won't get approved, but more than likely your interest rate will be much higher than that of someone with a higher credit score (I know total bummer, but there still is hope!!!). And again, let me say, just because you get approved for $35k doesn't necessarily mean you should use the entire $35k for your wedding. After you get approved, make sure that you have a budget sheet that you and your significant other can agree upon prior to taking any steps with planning your wedding. Generally, speaking if you diligently pay your bills on time, don't already carry a lot of debt (Yes, school loans count), don't have too many lines of credit open (Yes, Macy's, Express, & TJ Maxx store cards do indeed count too), then you should be in really good standing credit-wise. Oh(!!!), and lastly, if you're curious to see what your credit score is looking like, then you can check your score (for free, once a year) at Annual Credit Report. If you happen to be a Capital One accountholder, then there is no limit to how many times you can check (at no cost to you). Some other banks like Discover bank also have this benefit, but you'll have to (you guessed it) do your research to get more information.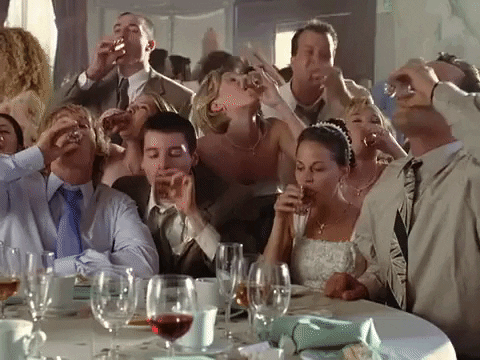 4.) Wedding Guests
Ok so this tip might come off a bit confusing cause you're probably thinking...How are your wedding guests going to pay for your wedding if you don't already have the funds readily available to pay for the wedding in the first place?! Well full disclosure: I'm including this tip with the understanding that it works hand-in-hand with the above #3 tip. Hopefully, you don't feel cheated with tip #4, however most people who attend weddings, do so with the understanding that they're paying back their seat(s) (that the couple has already paid for on their behalf), as their gift to the couple. It is pretty customary that if you're attending someone's wedding, you gift them $100 ($200 if your attending as a couple) or more and you place it in a wedding card, and call it a day. So therefore, if 50 guests attend your wedding, there is a high probability that they'll each gift you $100 or more, and so you'll have yourself a solid $5k.
Now of course, we have to consider certain variables like frugal Uncle Frank whose going to put $50 in a card and call it a day, but on the flip side, your bougie Aunt Elaine may go ahead and put $200.00 or more in a card, so it will more than likely all balance out. I will still say, not to put all of your hopeful eggs in one basket. But, if you really know your family and friends then you can pretty much gauge a good understanding of what your going to get or at the very least a small idea of what you're going to get. And if you'd rather spend your gift money for something else, like a honeymoon fund or contributions to your first home, instead of using it to pay back your loan (because you would have already implemented a set plan on paying it back yourselves of course), well then that's fine too!
Pro Bonus Tip: Many couples are opting to keep it allll the way real by requesting that their guests gift them monetarily, as opposed to traditional the kitchen appliances or fancy chinaware. Nowadays, lots of couple already live together or prefer to receive monetary gifts so that they may allocate the funds as they see fit, instead of going to Bed, Bath, & Beyond, and getting carried away with the store's registry scanner. If you're one of those bold couples, then I highly recommend requesting monetary-based gifts in a tactful manner. More specifically, my favorite method is via the cash registry app called Birdie! It's gotten rave reviews. It's the most beautifully designed and aesthetically pleasing registry that I've come across, and it's super easy to set up. It's also the only zero–fee cash registry: No fees to receive gifts and no fees to transfer the cash to your bank account (other registries charge up to12% in fees). The only stipulation is that the person sending the gift will incur a flat rate of $5 (similar to that of a gift card from a major credit merchant like American Express). But, honestly, I think the $5 trade off is well worth it in my opinion, since I'd rather pay the fee than the recipient that I'm gifting (talk about a tacky faux-pas). Here is the link to Birdie if you're interested: Sign up for Birdie. The couple in the attached image wrote a sweet brief message for their guests in a classy way: "We are lucky to have nearly everything we need for this new chapter together! However if you wish to honor us with a gift, we've created this cash registry for our honeymoon." Check out what others had to say about using Birdie below...
"Birdie has changed the game for me when it comes to wedding gifts. I've used it for both my engagement party and wedding reception, and it's so easy for both ends to use." — Asha B.
"My fiancé and I have been together for 9 years, so we already have everything we need for our apartment. All we really wanted was money to put toward our savings. Birdie was the perfect solution for us!" — Amy Z.
"We got $15,000 in gifts and used it for our home renovations. So easy to add our Birdie link to our wedding website & loved that our guests didn't have to download an app to send us gifts."— Jenny W.
"My favorite part was how fast it was to set up the registry. We looked into honeyfund but hated that we had to itemize the cash contributions into specific items and experiences... it ended up being stressful. So we looked into Birdie as an alternative and the experience was really seamless and made us feel more comfortable leaving the gift amounts up to our guests." — Jordan G.


4.) Family
Okay so I really struggled with the thought of posting this as a TIP. But some people are fortunate enough to have family that will gladly help in contributing to the cost of their wedding. However, just like with all my prior tips, I feel as though this one comes with its conditions. For example, if your parents are footing the bill for the wedding then be prepared for them to be very vocal on certain things that they would like, which will likely yield some unsolicited opinions from them. So this tip isn't for everybodyyy, but more so for that laid-back couple who just appreciates the fact that their family is helping them pay for their wedding in the first place, and can handle compromising (or just plain giving-in) in certain areas of the wedding planning, like the caterer or the venue. Bonus points(!!!) if you're lucky enough to have parents that will just give you the money as a gift and support you with whatever decisions you make in the planning of your wedding.
5.) Scale Down
Finally, last but certainly not least...Another savvy way to pay for your wedding is to SCALE IT DOWN. When I say to scale down, I mean for this method to be applied to your guest list, and to dismiss this notion that you need a big fat Greek wedding for it to be valid. Not all weddings have to be these big grandiose events housed in a 300-capacity venue that we see in the magazines or on television. Au contraire, you can have the most exquisitely stunning wedding with 35 or even 50 guests without breaking the bank! Actually, it is extremely feasible when you downsize. How you ask? Well cue in my shameless plug again, but Mariage Blanc Designs offers Le Petit Mariage Wedding Packages for couples who don't want to skimp out on the editorial vibes that are often viewed on Pinterest and Inside Weddings and opt for a more intimate wedding in order to do so!
Well folks that's all the tea I have for today! I hope that you were able to take away some helpful financial takeaways that you can apply to your wedding expenses. Please remember, do not bite off more than you can chew with your wedding. You still want to make wise decisions with how much you decide to spend on the overall wedding. So my suggestion is if you have $20k then treat it as if its $15k or even $12k if you can, so that you can have somewhat of a contingency fund or backup plan if unexpected life events occur and set you back a bit. I'm not encouraging you to haggle with vendors your vendors either(!!!), but rather seek vendors that are in your monetary comfort zone. You'll still want to research their portfolios/galleries, client feedback, etc. prior to making any final decisions.
And, lastly, I'll leave you with one last bonus tip and that is to have fun!!! Don't try to keep up with the Joneses or what everyone else is doing so much that you lose sight of the bigger picture! Your wedding is for you and your future spouse, not your parents, not your friends, and certainly not for social media! Focus on what's important, and remember that your wedding is one day, but your marriage is a lifetime!
#blogger #weddingblogger #eventblogger #lifetstyleblogger #howtopayforyourwedding #waystosavemoney #mariageblancdesigns #mbd #startingyourfinanicialweddingjourney #howtopayforawedding #nyweddingplanner #nyblogger #laviedelatefete